Wedding in Capri Italy / getting married in Capri Italy / Italy weddings / marriage in Capri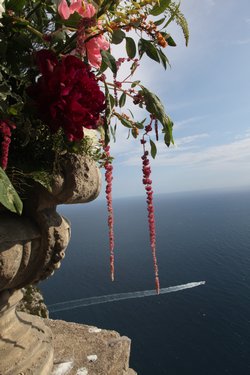 Italy is one of the most romantic countries in the world. With its unequaled cities, art, wine, food, and beautiful landscapes, it's not surprising that many couples choose to have a destination wedding in Italy, or more specifically are choosing to get married in Capri, Naples, Rome or Venice – towns where Sugokuii Events and Luxury Weddings specialize in custom designing Italian style weddings. Learn more about getting married in Capri Italy
Marriage in Capri
Capri is full of magical locations, including historic churches, beautiful former convents and romantic villas -- and can offer more romantic locations for your wedding day than you ever dreamt possible. Imagine a symbolic ceremony at a cliff-side park with a dramatic view of Capri as your backdrop or dancing your first dance by moonlight beneath olive or lemon trees in the gardens of a private villa in Capri.
Creating your Dream Wedding in Capri, Italy
At Sugokuii Luxury Events & Weddings, a destination wedding in Italy opens the doors to marvelous venues in Capri and all over Italy, including private villas that are often only open to us for events, marriages and ceremonies in the most romantic corners of Italy (Venice, Capri, Rome, Naples) and the Amalfi Coast. We are largely focused in creating your dream wedding in Italy, a joyous and elegant atmosphere and a memorable experience for you and your family and friends. Please click here for further information about Weddings in Capri, Italy.
---
Professional wedding planner Capri / wedding ceremony planner Capri Italy / wedding consultant Capri
Sugokuii Events is a top event and ...
Exclusive Weddings in Capri / Exclusive Wedding Planner Capri Italy / Event Planner Capri Italy
Sugokuii Events is one of Capri's top event and professional wedding planners - and the only full-service exclusive wedding planning and event design production based in Capri and New York, creating some of today's most imaginative and personalized one-of-a-kind celebrations. Learn more about our exclusive weddings in Capri Exclusive Weddings in Capri with Sugokuii Events...
Wedding Locations in Capri – Weddings in Capri Island – Weddings in Italy
Sugokuii Events is base don the beautiful island of Capri, Italy ...
Capri Wedding Photographer – Wedding Photographer in Capri
If you are ...
WEDDINGS IN ITALY-LUXURY WEDDINGS IN ITALY
Sugokuii Events does not offer package weddings, we create bespoke weddings in Italy for discerning clients with high expectations. From the ...
ST BART WEDDING – ST BARTH WEDDING – SAINT BART'S WEDDING
...
Wedding Capri
Capri never fails to win the hearts of all who visit, making it one of the ...
Capri wedding
...